Welcome to the epitome of academic excellence in Gaya, Bihar. The institute has produced the best CBSE board results in Gaya for yet another year. Nestled in the heart of this vibrant city, our prestigious academic institution stands as a beacon of outstanding achievements. With utmost pride, we announce our remarkable success in the CBSE Class 10th and 12th board examinations. Our students have surpassed all expectations, securing top ranks and commendable scores.
Situated amidst plush surroundings, our state-of-the-art facilities create an ideal learning environment for our students. With a sophisticated, positive, urban ambiance, we foster a holistic approach to education that combines traditional values with modern teaching methodologies. Join us as we celebrate our remarkable journey of excellence.
DPS with The Best academic results in Gaya
The management of Delhi Public School, Gaya, is immensely proud of the best CBSE board results in Gaya and appreciates the collective efforts of the entire school community in nurturing the student's academic growth and holistic development. The institution remains steadfast in its commitment to providing quality education, fostering a conducive learning environment, and empowering students to reach their highest potential.
The Powerful Performance of Class 10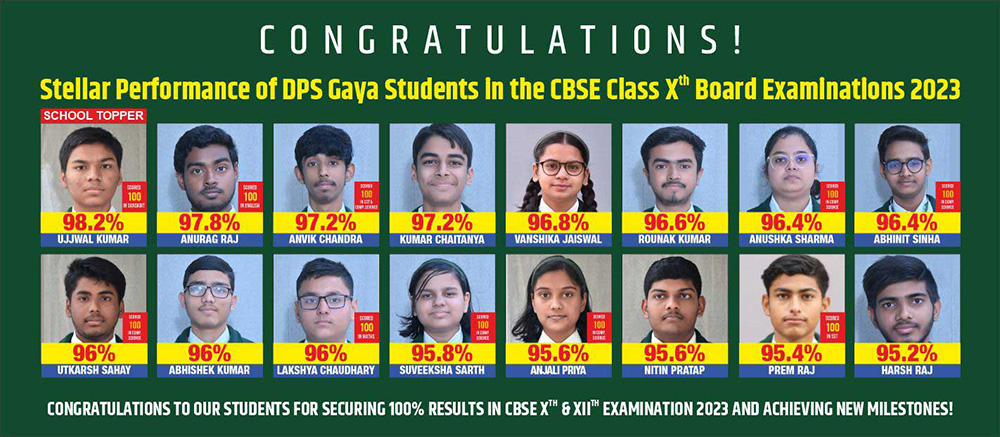 The phenomenal performance of class 10 is the reason why DPS produced the best CBSE board results in Gaya. 291 class 10 students passed the CBSE board examination with first division, causing immense joy and pride throughout the school.
64 pupils received scores above 90% on the board exams, while 16 students received more than 95%. The astounding 16 students who achieved 100% in several courses make DPS one of the top academic institutions in Gaya. This exceptional accomplishment is a result of the combined efforts of the students, parents, and instructors, and it demonstrates the school's unwavering dedication to academic excellence.
Ujjawal Kumar took first place with 98.2%, and Anurag Raj came second with 97.8% marks, bringing honour to the school. With 97.2% score, Anvik Chandra and Kumar Chaitanya took third place, followed by Vanshika Jaiswal in fourth and Raunak Kumar in fifth.
Bright Kids and Brilliant Performance of Class 12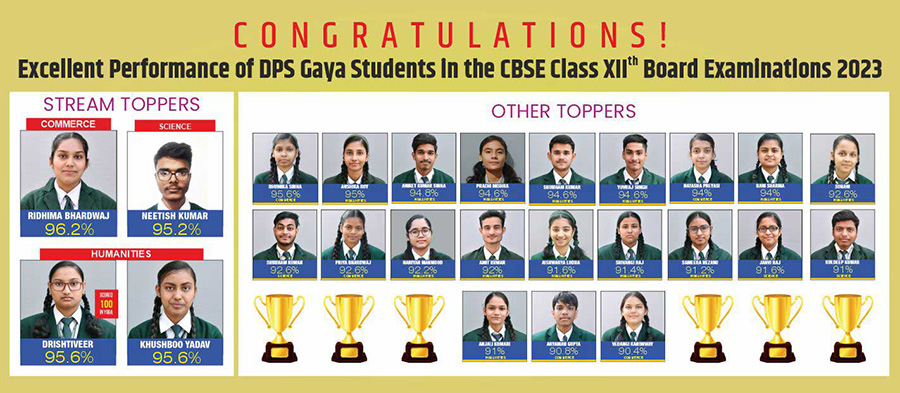 The Delhi Public School's best academic results in Gaya Class 12 students have also set the bar even higher by excelling spectacularly in their board exams. The pupils obtained a fantastic overall pass %, which the school is delighted to announce. 96% of the pupils cleared the examination first-class. In the CBSE board exams, five students scored higher than 95%, while 26 students scored higher than 90%. Seven students earned 99 marks and the top subject marks, while three students received 100 marks.
In the Arts stream, Drishtiveer and Khushboo Yadav gave great performances. Nitish Kumar and Ridhhima Bhardwaj took first place in Science and Commerce, respectively. The pupils demonstrated their commitment, diligence, and resolve. The school's extensive support programme and holistic academic curriculum paved the way for the best CBSE board results in Gaya.