Education is the key to unlocking one's potential, and Delhi Public School Gaya has once again proven its commitment to academic excellence. In the recently concluded CBSE Class 10th and 12th board examinations of 2023, Delhi Public School Gaya proudly announces that 18 of its students have achieved a remarkable feat by securing a perfect score of 100/100. This exceptional achievement not only reflects the students' dedication and hard work but also highlights the school's unwavering focus on providing quality education.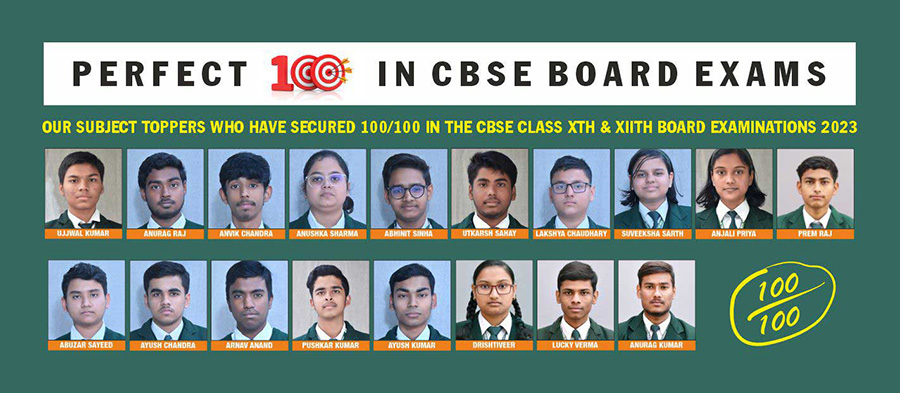 Recognizing the Achievers: The best performance of these 18 students in the CBSE board results is a testament to their academic prowess and determination. Their outstanding achievement showcases their comprehensive understanding of the subjects, exceptional problem-solving skills, and consistent efforts throughout their academic journey. We applaud these young minds for their exceptional performance, as they have set a benchmark for academic excellence.
A Culture of Excellence: Delhi Public School Gaya takes immense pride in fostering an environment that promotes holistic development and academic excellence. The school's dedicated faculty members, who serve as mentors and guides, play a crucial role in nurturing the students' talents and encouraging them to reach their full potential. The rigorous academic curriculum, complemented by a range of co-curricular activities, ensures a well-rounded education that prepares students for the challenges of the future.
Emphasizing Quality Education: The outstanding performance of Delhi Public School Gaya's students is a testament to the school's unwavering commitment to providing quality education. The faculty members' relentless efforts to impart knowledge, coupled with innovative teaching methodologies and state-of-the-art infrastructure, have contributed to the students' academic success. The school's focus on conceptual understanding, critical thinking, and practical application of knowledge has empowered students to excel in their examinations and beyond.
Inspiring the Future Generation: The achievements of these 18 students serve as an inspiration to their peers and future generations. They demonstrate that with dedication, perseverance, and the right support system, anything is achievable. Their success not only reflects the efforts of the students but also acknowledges the contributions of their teachers, parents, and the entire school community. Delhi Public School Gaya aims to foster a culture of excellence, motivating students to dream big, work hard, and strive for success in all their endeavors.

Mr. Satyendra Kumar Mishra, the Honourable Principal of DPS Gaya, expressed his joy and congratulated the students on their outstanding accomplishment – "Delhi Public School Gaya takes immense pride in celebrating the outstanding performance of its 18 students who have secured a perfect score of 100/100 in the CBSE Class 10th and 12th board examinations of 2023. This remarkable achievement is a reflection of the school's commitment to academic excellence, dedicated faculty members, and the unwavering support of parents and the school community. As we celebrate these top performers, we renew our commitment to nurturing young minds, inspiring them to reach new heights, and creating a bright future for all our students."