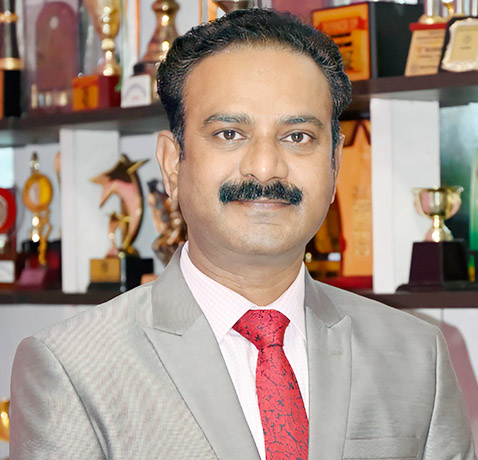 MESSAGE FROM THE PRINCIPAL'S DESK
Paul William "Bear" Bryant said that, "It is not the will to win, but the will to prepare to win that makes the difference".
Dear Parents and Dipsites
Greetings and an exuberant welcome to the progressing session.
It gives me an immense pleasure to put forth a brief scenario of our school Delhi Public School, Gaya. Walking down the hallways of the school every day, one can hear the chatter of eager minds, the shouts of excitement from the victorious athletes, the thump of dancer's feet and the sound of melodious harmonizing voices. The perpetual energy, movement and enthusiasm permeate the atmosphere at the sacred precinct of Delhi Public School, Gaya. We believe, we are a school with a difference! We value individualism, creativity and innovation and strive to nurture them in our students. Our motto "Service before Self" is at the heart of everything we do at the school. We aim to not just impart knowledge to the students, but also to inculcate in them - wisdom, compassion, humanitarian spirit, sense of inquiry, research, analytical thinking, an ethical approach, ideally blending the traditional and the modern that becomes a lifetime habit. We teach children the importance of tolerance and respecting each other's culture. Discipline, values and integrity are the very foundation of this school.
Besides rigorous scholastic programmes, we seek to develop and nurture the different facets of a child. The school encourages all students to participate in a variety of co-curricular activities from dance, art and drama to a variety of sports to social work to environmental conservation activities and the list goes on. It is important for a child to explore and find his/her strengths in order to reach his/her true potential to grow into a self-confident individual.
As a school we think about how to engage students and hold their attention. If a lesson is to be productive, how do we make sure the students actually absorb the topic? With this constant question in our mind we continuously upgrade our teaching tools and techniques as well as our academic programmes using all the latest tools of technology.
An old adage goes, "Develop a passion for learning. If you do, you will never cease to grow". Our earnest attempt is to make a child's first step out of his home a happy, enriching and rewarding experience, giving priority that the brain power is balanced with physical, emotional, intellectual and social well-being. Socrates exhorted, "I cannot teach anybody anything, I can only make them think". Thus, we foster a positive spirit and believe in partnership amongst students, parents, teachers and support staff striving to create a milieu that sustains excellence. Our distinction lies in the pursuit of high academic attainment through support, encouragement, praise and motivation.
Each New Year is the harbinger of new opportunities, of new milestones to cross, and further potential to be realized. Our endeavour is to make the school years of our children the happiest and the most educative years of their lives, to give them a well-rounded holistic education that would prepare them to adapt successfully to the rapidly changing environment of today's world. We wish to build in our students a value system that would stand the test of time.
Our endeavours would always be to ensure that each child of the school receives love, dignity and acceptance. The faith that each stakeholder has reposed on us gives us an additional sense of responsibility and humility. I thank the parents for their support and I am sure that they would continue to provide us with valuable suggestions in the future.
Looking forward for your valuable suggestions and opinions at principal@dpsgaya.com!
Seeking God's abundant blessings,
SANJEET SONI
PRINCIPAL