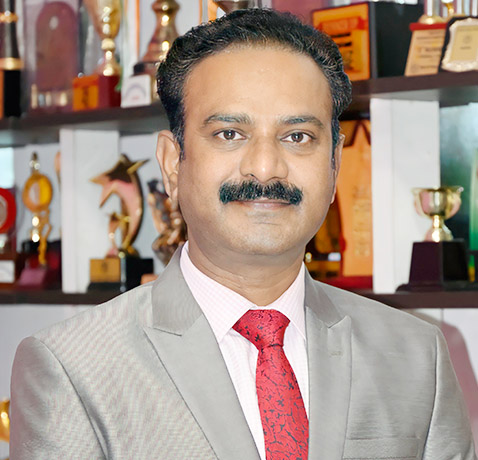 MESSAGE FROM THE PRINCIPAL'S DESK
"Education is not the learning of facts but the training of the mind to think." - Albert Einstein
Delhi Public School, Gaya has made an unyielding vocation for itself as an educational institution of great promise and excellent standards. The worthiness of the students, the caliber of the teachers and the superlative support from the management, have set the seal on the lightening rise for this young institution. I, therefore, consider my new responsibility as the Principal of DPS, Gaya as a great privilege and cachet.
We, at Delhi Public School, Gaya, believe in "Explore, Exercise and Achieve". Therefore, we provide a platform to every child for experiential learning, group anatomy and building projects with the use of available resources to achieve their individual goals. Our mentors are always endeavoring to inculcate the individualistic and independent thinking among children through hands-on learning; the green surrounding and comprehensive infrastructure of the school is aimed to be conducive to such learning. The school also has been playing a mammoth role in introducing the blessings of technology through the live interactive online classes and thereby, rigorously contributing to uplift the aspects of 21st century`s education. The parents, students and teachers have also been contributing brilliantly to illuminate the spark of knowledge in this tough time and I ventilate my heartwarming appreciation for their Herculean efforts.
I would like to take this opportunity to assure you that DPS, Gaya provides multifarious opportunities for the children through challenging and stimulating programmers of work, so that they get every chance to learn and enjoy their school day. Our school is a wondrous place which provides an amicable, caring, safe and revitalizing environment for your ward`s growth. The success of our enterprises rest as much in your support and encouragement as in the earnest exertions of our students and teachers. You stepped into the portals of this great institution with fresh thoughts, lofty aims, high hopes, and exalted aspirations. I assure you that your ambitions will be accomplished through the masterly guidance of the highly consummate and experienced faculty of teachers. In return, the school seeks superior ethics, positive attitude, social and moral values and discipline. I look forward to incorporating in close association with all of you to help the school and students scale new heights and hammer out new paths.
"Live as if you were to die tomorrow. Learn as if you were to live forever." - Mahatma Gandhi
Wishing you all Good Health and Best Wishes in your sojourn of Education!
Satyendra Mishra
PRINCIPAL